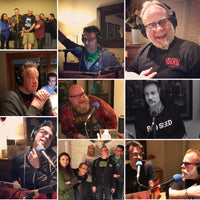 History
Brian Posehn and friends have been playing Dungeons and Dragons together for almost two decades. In 2012 they launched the first iteration of Nerd Poker at Earwolf Studios with Dungeon Master Scott Robison (Sark), and cast members Gerry Duggan, Ken Daly, Blaine Capatch and Sarah Guzzardo.
In 2016 they began producing the show independently, recording at Brian's home, with Dungeon Master Dan Telfer guiding the story. 
Ye Olde Nerd Poker Shoppe
FAQ
I'm a new listener, where should I start?
Our most recent season started in summer 2022 with Episode 1: Vyndarea, and is a great intro to the crew as they begin in a new adventure! If you'd like to begin earlier in the show's history, check out the first episode of any of the seasons: each have their charms!
Season 1 has some audio issues but is where the reboot began! Season 2 is when Sarah returned and Chris joined the fold. Season 3 and Season 4 saw all new characters and also are good intros.
The seasons are interconnected, with some common characters and lots of returning in-jokes, but each stands alone as a story arc and can be enjoyed on its own.
Where can I find more of that sweet Nerd Poker content?
Our Patreon is your best bet- join us there for behind-the-scenes goodies, plus bonus episodes, giveaways and more. You can also find us on Twitter, Facebook,  and Instagram, and there's a listener-run Nerd Poker subreddit as well!
Do you have merch?
We sure do!  Check out Ye Olde Nerd Poker Shoppe for tees, hoodies and more.
I have fan art, how can I share it?
Tag or send it to us on Instagram, or post it with hashtag #nerdpokerart . We love to see everyone's takes on our characters and world.
I have snail mail for you. Where can I send it?
Nerd Poker, P.O. Box 16069, Encino, CA 91416
Where can I listen to the original Earwolf episodes?
Earwolf has moved those episodes behind a paywall- they're currently available to subscribers of Stitcher Premium.
Did you forget Gerry?
Never.